Manage your DOTA Mods easily.
What are Mods?
Mods are everything you can customize in Dota: Hero Items/Sets, Terrains, Loading Screens, Effects
Why use Mods?
There are
hundreds
of hero items and sets and you just can't afford buying all of them but would be really awesome if you could just see them in action.
Will you get banned?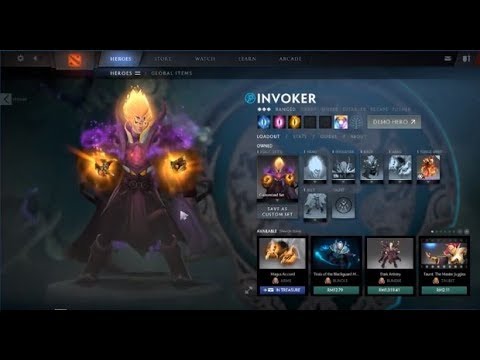 How It Works
Choose your Mods
Select as many mods as you like
Save & Play
Click to install the mods and start Dota2
Yep, that's it.
Well.. remember to equip your heroes' Default Set
Features
⚛
Install just the mods you want
You can choose what mods you want to see in the game.
⚛
Set Mod as Default
If you have installed
multiple mods
for the same hero, you can choose which one to be used by setting it as default.
⚛
Shuffle
You can install multiple sets for a hero and add them to Shuffle.
This means that when you click
"Save Mods"
or
"Save & Play"
the app will choose one mod randomly from your list of installed mods.
Note:
To get another random mod you have to exit Dota and click "Save Mods" or "Save & Play" again.
⚛
Remove from Shuffle
This will make the app completely ignore the installed mod.
⚛
Launch Dota on Startup
If you check this option then the next time you will open the app it will Get Minimized, Save Mods (also shuffling them) and Launch Dota.
This is very helpful if you have already chosen which mods you want to see and you just want to play.
Note: On major updates Dota will overwrite your mods so you have to Save them again and relaunch the game.
⚛
Search & Filters
You can search for mods or filter them by Rarity or Hero.
⚛
Create your own mods
You can now create your own mods and upload so others can enjoy them
⚛
Texture and Particle Editor
Recolor your favorite mods, make them whatever color you want or all of them! Make a rainbow!
V4 is here!
V4 brings new features like "Autoupdating Scripts", "Create your own mods" and "Texture and Particle Editor"
View the
Changelog
and download it
Mods List
So what mods (or skins) can you use? Well, you can use every item that has been made. For example: Hero Sets, Immortal items, Arcanas. But also Terrains, Weather, Music, Announcers, Item Effects, Roshan skins, absolutely everything.
But the list doesn't end here, on top of these you also have Custom Mods made by the fans of modding. These custom mods can be either simple recolorings of other items, completely new items that didn't get accepted by Valve, or models from other games.
There are over
3400
Mods and over
8300
Mods Parts choose from. And we're constantly expanding the list.
Trouble installing?
Having trouble installing it?
If you have a problem, please Contact us
What OS is supported?
Currently Dota2Mods app can run only on Windows (x32 and x64)
What about MacOS?
Nope, it isn't supported and it will never be.